Discover Our Software Advantage:
Seamlessly Integrated, Designed for Longevity
Opting for Qbic Technology means you're not just choosing a product; you're aligning with a company committed to delivering the perfect blend of speed and excellence.
Trusted by Fortune 500 leaders and supported by a vast network of global software partners, Qbic's uniqueness lies in its dual expertise: We not only produce smart devices for space management that bridge the digital and physical worlds but also master the software that enhances their capabilities for seamless deployment and user experience.
Our dual expertise ensures that every element of our system prioritizes swift deployment and minimal downtime. With Qbic, you're guaranteed access to an one-stop solution provider offering a comprehensive ecosystem that delivers smooth integration and consistent peak performance for your enterprise.
Our all-encompassing solution comes with a host of benefits intended to cater to diverse user groups:
Don't just take our word for it – hear from one of our valued software partners who benefited from working with a company that prioritizes longevity and scalability.
We have made long-term support an integral part of our software design foundations. 
Our dedicated software team has devised a comprehensive six-pronged approach, serving as our strategic playbook to guarantee consistency and reliability at every turn.
We invite you to explore further and discover how partnering with Qbic can empower your business. Our software expertise not only provides peace of mind but also equips your enterprise for the future, forging a path of success.
Benefits Of Working With Qbic: Product Integrity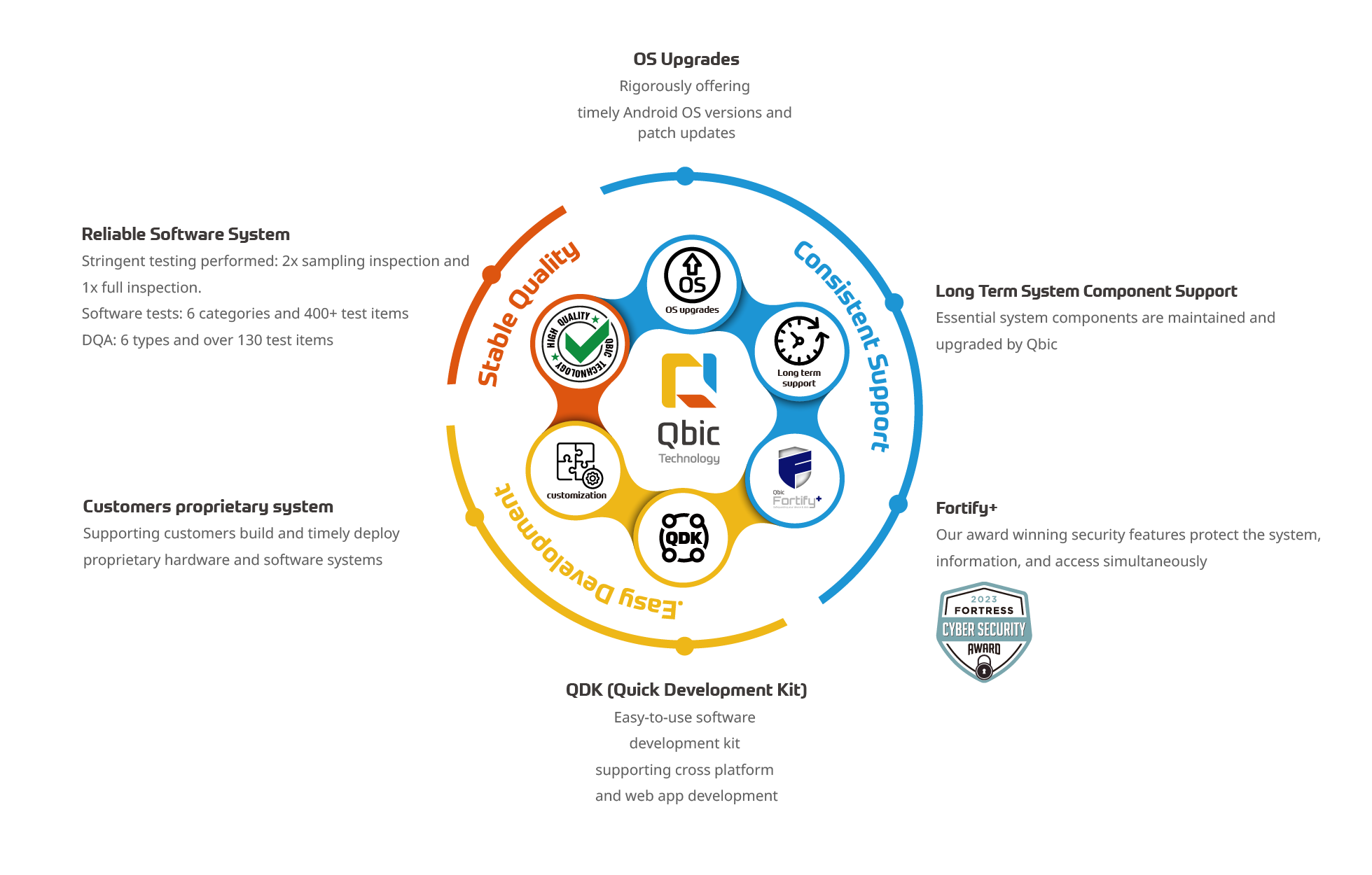 Seamless OS Upgrades
Let us handle the intricacies of operating system updates so you can concentrate on shaping innovative solutions. Enjoy a variety of user-friendly options to upgrade your system, whether locally or remotely. This year, our dedicated software team introduced the Android 12 upgrade for select Qbic devices. Click here to learn how timely, generational OS support can supercharge your business endeavors.
Fortify+ for Enhanced Security
Embrace our award-winning Fortify+ system, designed with nine layers of security fortifications, ensuring a safe environment that meets even the highest security standards. Click here to find out more about Qbic Fortify+ and how our cybersecurity solution safeguards your business.
QDK – Your Shortcut to Quick Deployment
Harness the power of our Quick Development Kit (QDK) – a user-friendly development environment that significantly shortens your software development timeline. QDK supports cross-platform and web app development. Together with our consistent API library across various devices, developers can streamline the deployment process, enjoy rapid time-to-market, effortless maintenance, and avoid building up technical debt. Do it right the first time.
Your Proprietary System, Our Support
We lend our expertise in building customized systems, pre-configuring partner software, and introducing new features to align with your unique requirements. Drawing from years of software development experience, we ensure seamless integration with your existing infrastructure, prioritizing system stability and user-friendly interfaces. By collaborating closely with your team, we continually adapt and refine solutions, anticipating the future needs of your business and maintaining technological relevancy.
Reliability You Can Trust
In a world where software-hardware synergy is vital, Qbic leads with a gold-standard code review and security testing approach, mirroring Google's rigorous code reviewing protocol. Our software team employs a three-tiered review for all source codes, capturing early issues with two initial inspections and sealing it with a comprehensive final analysis. Armed with an extensive 400+ software and 130 DQA test item checklist, we promise unmatched security and enduring performance.
Longevity Through Component Support
We are deeply committed to ensuring the longevity and performance of vital system components. Our Qbic Remote Configuration Center (RCC) empowers administrators with real-time adjustments and proactive troubleshooting capabilities over the Intranet. For example, with RCC, issues such as system inconsistencies, delayed responses, and prolonged downtimes can be rapidly addressed, offering timely interventions and ensuring system harmony. This dynamic approach not only mitigates potential system challenges but also fosters an environment of continuous improvement. In doing so, your system is always optimized, ensuring peak efficiency at all times and staying ahead of the technological curve.