Navigating the intricacies of IPC and IoT, Qbic stands firmly with unparalleled expertise in design, development, and manufacturing. Our dedication is underpinned by a relentless pursuit of ensuring our partners and customers are equipped with nothing less than with products that epitomize security, reliability, and longevity.
The expanding terrain of IoT presents not just opportunities but challenges, notably in privacy and security domains. In recognition of this, we've channeled years of research, field insights, and real-world implementation experience into our Qbic Security Design Policy. Today, every phase of the Qbic product lifecycle—design, development, production, and maintenance—is governed by rigorous standards in three areas: Security Design, Security Architecture, and Security Services. 
From the drawing board to the final product, Qbic ensures security is the cornerstone of our devices. The Qbic Security Design Policy is integrated from a product's inception, providing a solid foundation for strong protection, proactive defense, and swift updates.
Hardware Security
To us, hardware isn't just a vessel for software—it's an integral component of our security strategy. Our engineering teams prioritize security in their designs, integrating tactile security components such as advanced anti-theft systems. Moreover, our electric circuit design is intricately woven with security principles, fortifying the defense capabilities of our products.
Code Review and Security Features Test
At Qbic, we uphold the highest standards in software development, mirroring the rigorous code review platform and processes synonymous with industry leaders like Google. Our commitment doesn't stop at adhering to coding styles; we delve deeper. Every line of our software source code undergoes intensive security evaluations, ensuring vulnerabilities and potential weaknesses are identified and mitigated before any release.
Penetration/Security Tests
Our dedication to superior security measures led us to collaborate with a top-tier third-party security lab as an integral part of the Qbic Security Design Policy. Onward Security, recognized as the Best Cybersecurity Company – Gold Winner by the Cyber Security Excellence Awards, provides both security certification and consultancy services, reinforcing our stance on delivering unmatched security for our partners and users.
In the realm of device security, three critical elements stand out: the operating environment, information integrity, and access permissions. Their interplay is vital, and ensuring their collective protection is non-negotiable for us. Recognizing this intricate balance, Qbic is committed to engineering a suite of security features that guarantee optimal safety across operational, informational, and access parameters.
Fortify+: Qbic's Premier Security Suite
Our approach to security isn't one-dimensional. At Qbic, we've meticulously crafted and integrated a comprehensive set of nine significant fortifications, all packaged under our award-winning security solution, Qbic Fortify+. 
(Related Article: Qbic Fortify+ Wins 2023 Fortress Cyber Security Award)
These fortifications are meticulously designed to shield devices from a myriad of security threats. With our hardware, firmware, and software receiving this robust protection, we aim to support our partners with improved security across operations, information, and access.
Devices that meet our rigorous security standards are given a mark of excellence – they are labeled 'Qbic Fortify+'. This mark not only signifies advanced protection but is a testament to our unwavering commitment to high-security requirements.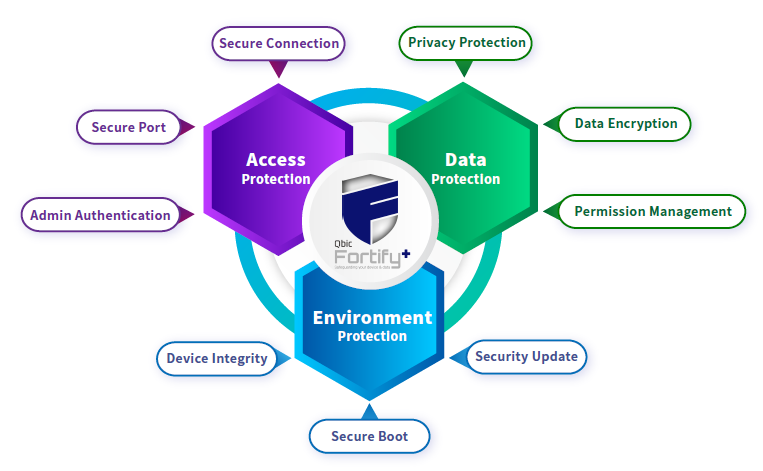 In the world of IPC and IoT technologies, different applications and user situations create a wide range of security needs. An IPC and IoT company of repute must be agile enough to address and satisfy these diverse security demands. This is where Qbic stands out.
Tailored Security Solutions
With a wealth of experience under our belt, Qbic excels at tailoring hardware, firmware, and software solutions to cater to unique needs. One of our proven strategies includes defaulting to limited connectivity, significantly reducing the potential exposure and susceptibility of a device to threats.
Proactive Security Maintenance
Our commitment to security doesn't conclude post-deployment. At Qbic, we recognize the importance of continual vigilance. Alongside our customization services, we offer robust security support. Our clients benefit from regular security patches and, importantly, any security-related issues are promptly addressed, with fixes being our topmost priority.
Unyielding Commitment to Security
In today's swiftly changing technological landscape, the emergence of hardware and software vulnerabilities is not a question of if, but when. This reality underscores the vital necessity for IPC and IoT organizations to maintain an unwavering commitment to ensuring their smart devices are secure.
Qbic stands at the forefront of this mission. Our entire product life cycle, from conception to maintenance, is anchored by the Qbic Security Design Policy. This isn't just a static policy; it's a living framework, always in sync with the most recent breakthroughs in security.
At Qbic, our relentless pursuit of excellence not only ensures unmatched security across our offerings but also provides peace of mind for our partners and customers. Together, we forge a secure and confident future.