How Qbic is enhancing IoT enterprise security with an award-winning solution and dedicated OS support
In today's interconnected world, the security of Internet of Things (IoT) devices has never been more critical. As our homes, offices, and educational institutions become smarter, the devices we rely on must offer convenience, efficiency, and peace of mind, and timely support to ensure our digital safety.
This is where the importance of robust enterprise security measures comes into play. In this blog post, we'll explore:
What the US "Cyber Trust Mark" Means for Consumers and Companies
How Does Qbic's Award-Winning Security Solution Work for You?
How to Secure Your Smart Home and Office with Qbic
What the US "Cyber Trust Mark" Means for Consumers and Companies
The Current State of IoT Security
Pretty much anything can be a connected device these days; however, many of these devices lack robust security measures, leaving them susceptible to potential cyberattacks. It's easy to dismiss these risks, thinking, "Why would anyone be interested in hacking my fish tank thermometer?"
But this casino learned the hard way when hackers hacked into its database through its Internet-connected fish tank thermometer.
Cybersecurity experts have been sounding the alarm for years, yet only a little has been done to introduce security solutions into IoT devices until now.
Earlier this month, the US government took a significant step towards enhancing IoT security by introducing the 'Cyber Trust Mark'. This initiative is set to profoundly impact consumers and the industry alike, setting a new standard for cybersecurity and providing a clear indicator of a smart device's safety.
For consumers, the Cyber Trust Mark acts as a seal of approval, offering buyers peace of mind and a clear indication that this IoT device has passed security checks.
The initiative also includes a QR code that links to a database of products, meaning that in the future, consumers can scan and access real-time updates on a product's ongoing compliance with cybersecurity standards, further empowering them to make an informed purchasing decision.
For tech-makers, the new initiative means manufacturers are now challenged to ensure their devices meet these high-security standards to receive this mark, incentivizing an industry-wide push towards better security practices. It presents an opportunity for companies to differentiate themselves by demonstrating their commitment to cybersecurity.
As security threats are ever-evolving, the QR code design also promotes transparency and encourages manufacturers to maintain security standards over time.
How Does Qbic's Award-Winning Security Solution Work for You?
For most IPC hardware manufacturers in the industry, security and software are often overlooked or outsourced to software partners, meaning that it's unlikely that the devices are kept up-to-date with the latest security patches.
This opens up opportunities for hackers to breach your security defenses and steal important data.
But, in this time and day, the importance of speed and staying ahead of cybersecurity threats cannot be understated.
As a company built on speed and uncompromised quality, Qbic's forward-thinking software team identified this pivotal need for secure solutions early on, setting the stage to deliver peace of mind for our customers.
Our standout strategy hinges on a two-tiered approach to device security: our award-winning solution, Fortify+, and our comprehensive, multi-generational Android OS support.
Together, they ensure the devices we ship to our customers – software vendors, end users, and procurement teams alike – are secure and up-to-date.
Qbic Fortify+ is the cumulation of years of dedicated research and development, resulting in a solution that enables seamless integration of tailor-made security features into products and services.
The brains behind Qbic Fortify+, Neal Hsieh says "the software is designed to keep our devices safe by securing how they are accessed, how the data is used, and the overall environment they operate in, all of which are essential for complete device security."
To fight against potential dangers, we have set up nine strong protective measures under three major areas: access protection, data protection, and environment protection, which all come into play at the same time.
Also, Qbic Fortify+ has three security checkpoints to stop breaching attempts while regularly providing updates to keep your devices safe from threats. By focusing on securing access, data usage, and the operating environment, Qbic Fortify+ ensures your devices' safety in general applications and important security projects.
The fact that Qbic Fortify+ won the 2023 Fortress Cyber Security Awards in the Data Protection category, indicates that Qbic's vision is on the right track. 
"Being awarded the 2023 Fortress Cyber Security Award for Data Protection is a powerful validation of our unwavering commitment to protecting our clients' businesses and trust in our smart devices and solutions," said David Chen, CEO of Qbic Technology. "We are dedicated to not only safeguarding our customers' data but also their peace of mind."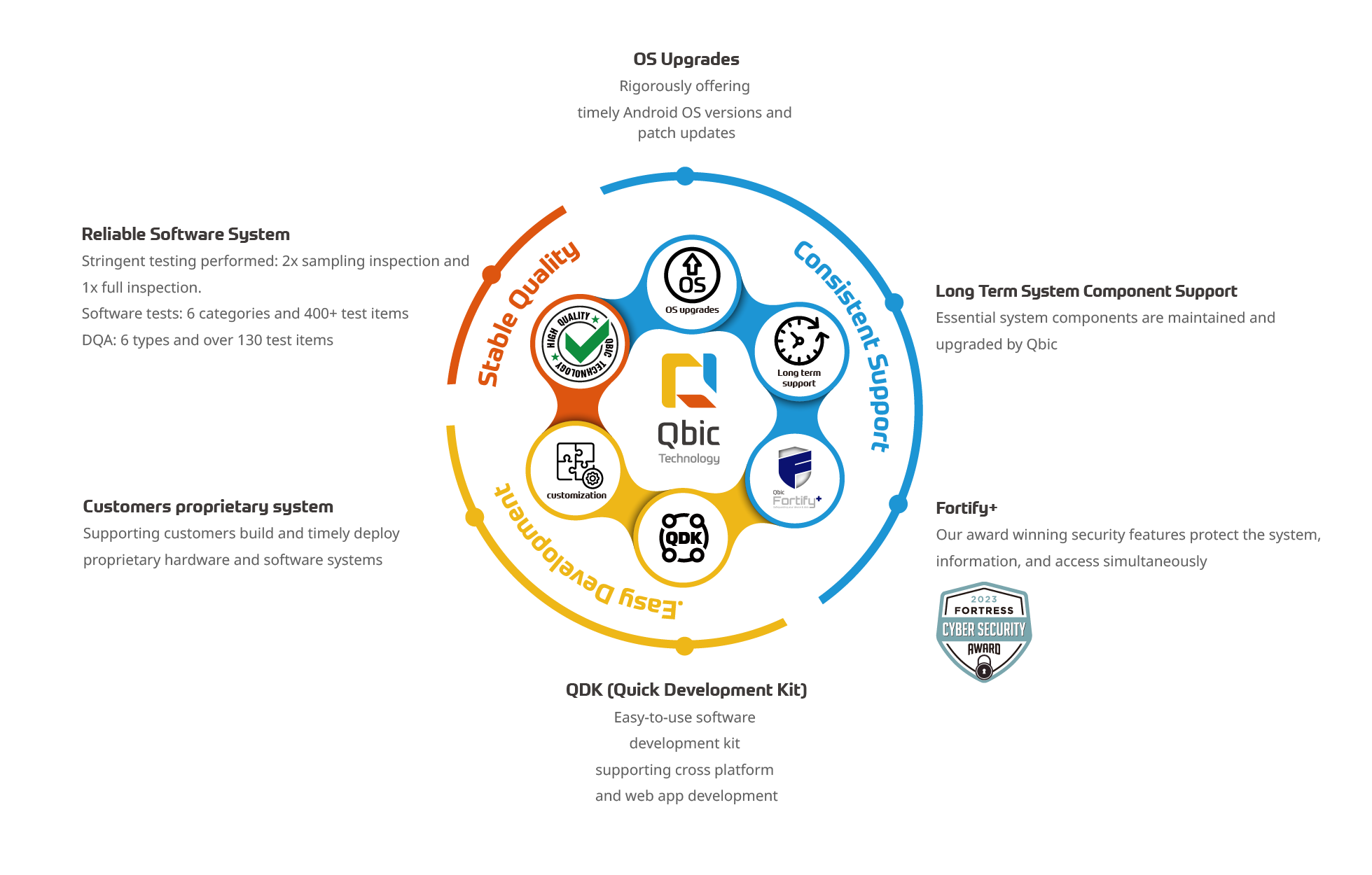 Qbic's Security and Software Roadmap
Understanding the Android-based system is at the heart of our product design, we acknowledge the concerns raised by our customers about the limited firmware upgrades and support for enterprise-grade Android smart devices. This situation could increase security vulnerabilities.
Given that a significant portion of our products operate on Android OS, we are committed to providing continuous updates and support. Additionally, we developed Qbic Fortify+ to add an extra layer of security, helping to protect our clients' devices and services even further.
Our long-term development roadmap for Android OS is centered around enhancing product longevity. 
"We do this by releasing the latest Android version each year, giving our customers the assurance that their devices will stay up-to-date and secure against evolving security threats," says Neal.
For 2023, we have rolled out the industry's first enterprise-use Android 12 upgrade for specific devices, updating the security patch support to the latest version as of June 2023. For more information about the Android 12 upgrade and its potential benefits for your business, please follow this link.
How to Secure Your Smart Home and Office with Qbic
Returning to the US Cyber Trust Mark, it's clear that this initiative's basis was founded on enforcing safer working environments in offices and living spaces in smart homes.
Although Fortify+ is compatible with select devices, it's worth noting that one specific range of Qbic products is assured to support Fortify+: the Luminen 3-in-1 Luxury Smart Control, designed for residential, office, and hospitality use.
For Your Smart Home
Choosing Luminen as your smart home's smart control means your home will benefit not only from seamless connectivity across KNX-compatible devices but also from the peace of mind of knowing your most personal living spaces are safe against security threats.
In the hospitality industry, incorporating Luminen into upscale hotel operations signals your steadfast commitment to the protection of your guests' data, and ensures a level of security that seamlessly complements your luxury services.
For Your Smart Office
In today's digital landscape, offices rely on expansive connected networks, intertwining daily operations with technology. With our robust cybersecurity solution seamlessly integrated into smart office controls like the Luminen series, businesses gain oversight and management of resources at a glance, such as air-conditioning and lighting systems.
Yet, all these security enhancements can be rendered ineffective if enterprise devices are outdated or missing crucial security patches. To illustrate, there remain devices in operation using Android 8, a 2017 release which ceased receiving security updates by October 2021.
At Qbic, we challenge the norm. Rather than placing the onus on our customers, our proactive software team ensures that users of our Qbic devices are perpetually protected.
Pioneering an industry-first move, we've introduced Android 12 for select enterprise Qbic devices. This not only delivers the latest features to our users but also fortifies them with the most current security enhancements, amplifying their trust and safety.
Conclusion: Embracing a Securer Future with Qbic
In the rapidly evolving landscape of IoT, security is not just an option but a necessity. The introduction of the 'Cyber Trust Mark' by the US government underscores this need, setting a new standard for cybersecurity in smart devices. 
As consumers and manufacturers alike navigate this changing terrain, it's clear that informed choices and robust security measures are vital to staying ahead.
At Qbic, we're committed to providing solutions that not only meet but exceed these standards in a timely way. Our award-winning security solution, Fortify+, and our ongoing support for Android OS-based Qbic devices exemplify our dedication to ensuring the safety of your devices and offering peace of mind.
Whether you're looking to secure your office networks and business operations, smart home or provide top-tier security in a hospitality setting, our products, such as the Luminen 3-in-1 Luxury Smart Control series, are designed with your needs in mind.
By choosing Qbic, you're choosing a partner committed to safeguarding your most personal spaces against security threats.
As we continue to innovate and adapt to the ever-evolving world of IoT, we invite you to join us on this journey towards a more secure future.
Want to learn more about our products and services? Click here to get in touch with us and supercharge your business to new heights!